Dates:
9-11 Nov 2018 (Fri – Sun)
Venue:
Goodman Arts Centre Block B #01-03 (90 Goodman Road)
Ticket Price:
$15 per show (excluding booking fee)
Discount:
Early bird (till 30 Sep 2018):
10% for purchase of any number of tickets
Group booking (from 1 Oct 2018):
10% for purchase of 4 or more tickets
Book your tickets now!
Online booking via www.apactix.com
Phone booking at tel: 3158 8588
Box Office at Singapore Indoor Stadium, Scotts Square Concierge, The STAR Performing Arts Centre Box Office, and all SingPost Outlets
Notes:
All shows in English.
Recommended for children aged 4 and above.
Duration of each show: 45 mins, including a post-show sharing.
Admission is strictly by ticket. Each ticket admits one person only.
Audience will sit on the floor. Limited chairs will be provided.
DIY puppetry activity will be available on 10 and 11 Nov from 12.30pm to 5.30pm.
Special shows for schools!
Date: Fri, 9 Nov 2018
School Show 1: 9am-11am
I'm Ewe and the Two Crane Birds
+ Oh Rats!
School Show 2: 11.30am-1.30pm
Journey West: Web of Deceit
+ Hanging by a Thread
Ticket Price: $25 per show
For school booking and enquiry, please call 6440 5706 or email admin@papermonkey.com.sg.
A puppet festival with friends from around the world!
A weekend of puppetry activities to ignite your imagination, and great fun for the whole family!
No Strings Attached is a festival organised by Paper Monkey Theatre that features puppetry artists from Asia and around the world. Third year in the running, the festival this year presents works from Australia, Italy, Thailand and Singapore. Come and watch a performance, chat with the artists and DIY your very own puppet. Be inspired and touched by the magical world of puppets.
Oh Rats!
By Sydney Puppet Theatre (Australia)
Hand Puppets, Rod Puppets, Bib Puppets
1st show: Sat, 10 Nov 2018, 5.30pm-6.15pm
2nd show: Sun, 11 Nov 2018, 1pm-1.45pm
A magician is sent to train a new magician's assistant who has no idea of what is going on. Besieged by rats, sausages and a duck with a personality crisis, the new assistant is faced with his own hilarious misfortune. This dynamic performance takes the audience on a whirlwind of comical events. Simply a theatre of delight presented by award-winning Sydney Puppet Theatre.
Hanging by a Thread
By Di Filippo Marionette (Italy/Australia)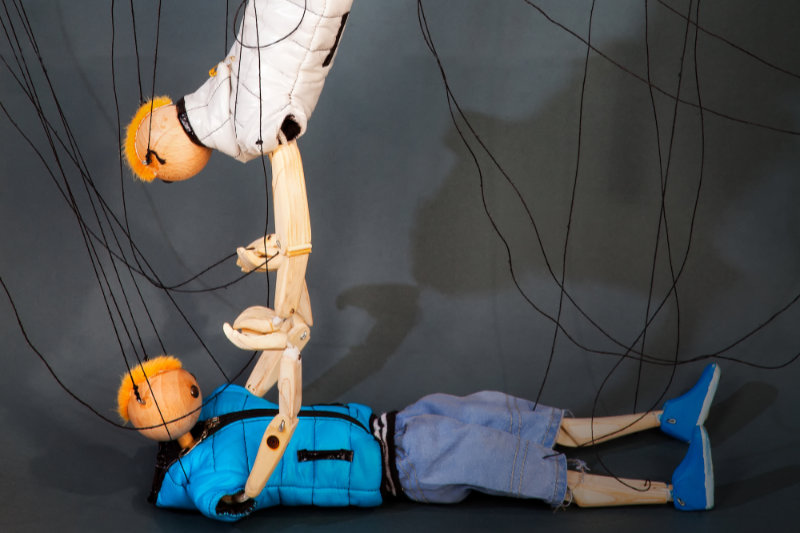 String Puppets
1st show: Sat, 10 Nov 2018, 2.30pm-3.15pm
2nd show: Sun, 11 Nov 2018, 4pm-4.45pm
The marionettes come alive as each of them tells a story, without words. Inspired by famous personalities like violinist Niccolò Paganini as well as ordinary people, the characters interact with the puppeteers and the audience in a magical way. At times moving, at times funny. Created by Di Filippo Marionette based in Italy, the show has won several awards at arts festivals in Europe recently. Welcome to their world!
I'm Ewe and the Two Crane Birds
By A CREATURE (Thailand) (Formerly known as CHAI)
Rod Puppets, Bunraku (Japanese traditional puppet)
1st show: Sat, 10 Nov 2018, 4pm-4.45pm
2nd show: Sun, 11 Nov 2018, 2.30pm-3.15pm
Ewe, a hardworking middle-aged woman, dies suddenly one day. But she does not realise that she is dead. Two crane birds appear and guide her to gradually accept the nature of death, which is just a part of the life process. This is the latest show created by the talented Surachai Petsangrot, or Chai, who is known for adapting techniques of puppetry in his theatrical works.
Journey West: Web of Deceit
By Paper Monkey Theatre (Singapore)
Teochew Metal Rod Puppetry
1st show: Sat, 10 Nov 2018, 1pm-1.45pm
2nd show: Sun, 11 Nov 2018, 5.30pm-6.15pm
Singapore's very own Paper Monkey Theatre presents this fascinating tale from the classic Chinese novel Journey to the West. On their journey, Master Tang San Zang and his disciples run into the crafty Spider Demon, who traps Master Tang with her web to prepare for a feast! Audience will see exciting battle sequences in this show which is performed with traditional Teochew metal rod puppetry in a contemporary theatrical style.
You might also be interested in…