Light, Shadow, Action!
– A Shadow Making Workshop for Adults by Makhampon Theater Group (Thailand)
Date:
19 Nov 2012
Time:
1pm – 5pm
Venue:
Tree House @ Paper Monkey Theatre
Goodman Arts Centre
90 Goodman Road, Blk B, #01-05
Singapore 439053
Workshop Fee
$50 per person (**$30 special rate for friends of Paper Monkey Theatre)
Synopsis
This November we are having some friends over Thailand to share with us their puppetry works.
We are having a special shadow puppetry workshop conducted by the puppeteers of Makhampom.
If you are keen in shadow puppetry and would like to learn a new skill for your theatre projects, do join us in this hand-on workshop with lots of experimentation of lights, materials and designing of shadow puppets.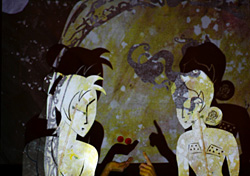 You might also be interested in…